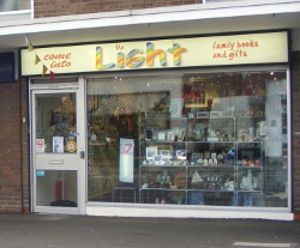 ...Your local christian store on the 'net'.


(We are still adding and adapting to the site).
---

We are bringing to you a 'local' Christian Store – but on the 'net'

Unlike all the other sites on the net which you can buy from,
The Light is different because we are sowing back into your community.

Most importantly of all, through your support, we are able to maintain a Christian presence on the High Street and as you will see when you 'come into the Light' we offer a range of non-Christian cards and gifts which bring non-Christians into the Store and there they see and hear the Word of God all around them.

Churches that buy through the site will get a 10% discount and when we take the Light shop stall to churches, events and coffee mornings we give 10% of the sales back into the church funds.
If you wish to use the site on a regular basis, click on the 'Account sign up' link at the bottom of this page. You will be able to receive our Light News - a regular monthly update on new and featured products, special offers and locations and dates of Light Store stalls around the area when you sign up.
---
**** See our specials to help us celebrate our 6th Birthday and see how you can enjoy some savings this month******
Click these internal links to go to: